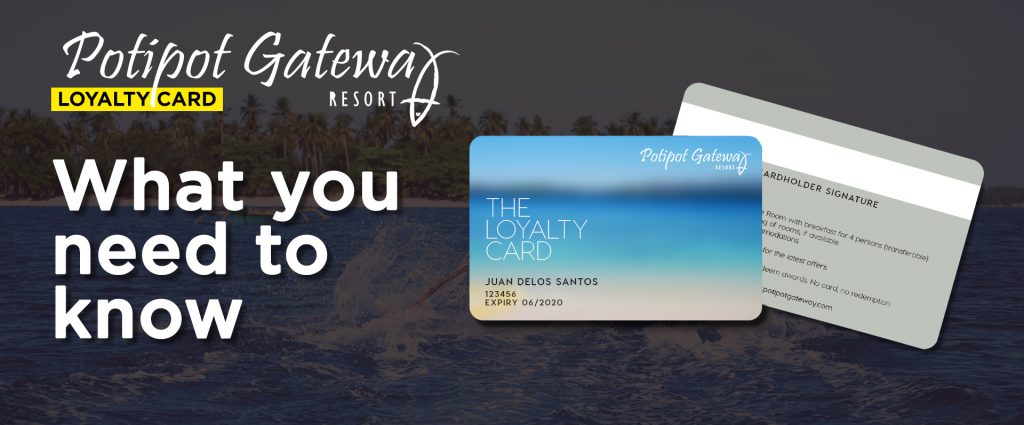 ---
---
The Fine Print
These terms and conditions govern the Potipot Gateway Resort Loyalty Card program of Potipot, Inc. that applies to all cardholders. Accepting and using the card means accepting the terms and conditions presented here. Terms may be amended by Potipot Gateway Resort from time to time.
About Your Loyalty Card
Membership in the Potipot Gateway Resort Loyalty Card program is available to any individual of adult age group who:

Pays the full membership fee, in the applicable local currency;
Provides valid and accurate personal information when enrolling the membership program; and
The Potipot Gateway Resort Loyalty Card is a property of Potipot Gateway Resort. The card must be signed by the member. The privileges of membership will only be granted on presentation of a valid membership card with a valid membership number.
Membership card is for your personal use only and is not transferrable in any circumstances. Please promptly report lost or stolen cards to customer services.
Loyalty Card Privileges
One (1) complimentary two (2) nights' stay in a Deluxe Room with breakfast good for four (4) persons (transferable)
Priority in FREE upgrading of rooms, if available
20% discount in the room accommodation for every booking;
How to Make a Booking
Reservations should be made in advance and when making a reservation, you should identify yourself as a Potipot Gateway Resort Member, present a valid membership card and ID to the hotel upon check-in and check-out to avail your accommodation privileges. Your booking may be cancelled without penalty if cancelled at least 24 hours prior to arrival. Cancellation of booking less than 24 hours prior to arrival shall be charged according to our standard cancellation policies.
Loyalty Card Validity
The Loyalty Card and benefits are valid until expiry date on your membership card.
Termination
No Penalty Fee – within 10 business days after payment of membership fees
No Refund – After 10 business days after payment of membership fees
---